[Update 09/23/2022 8:00AM]:
Tropical Depression Nine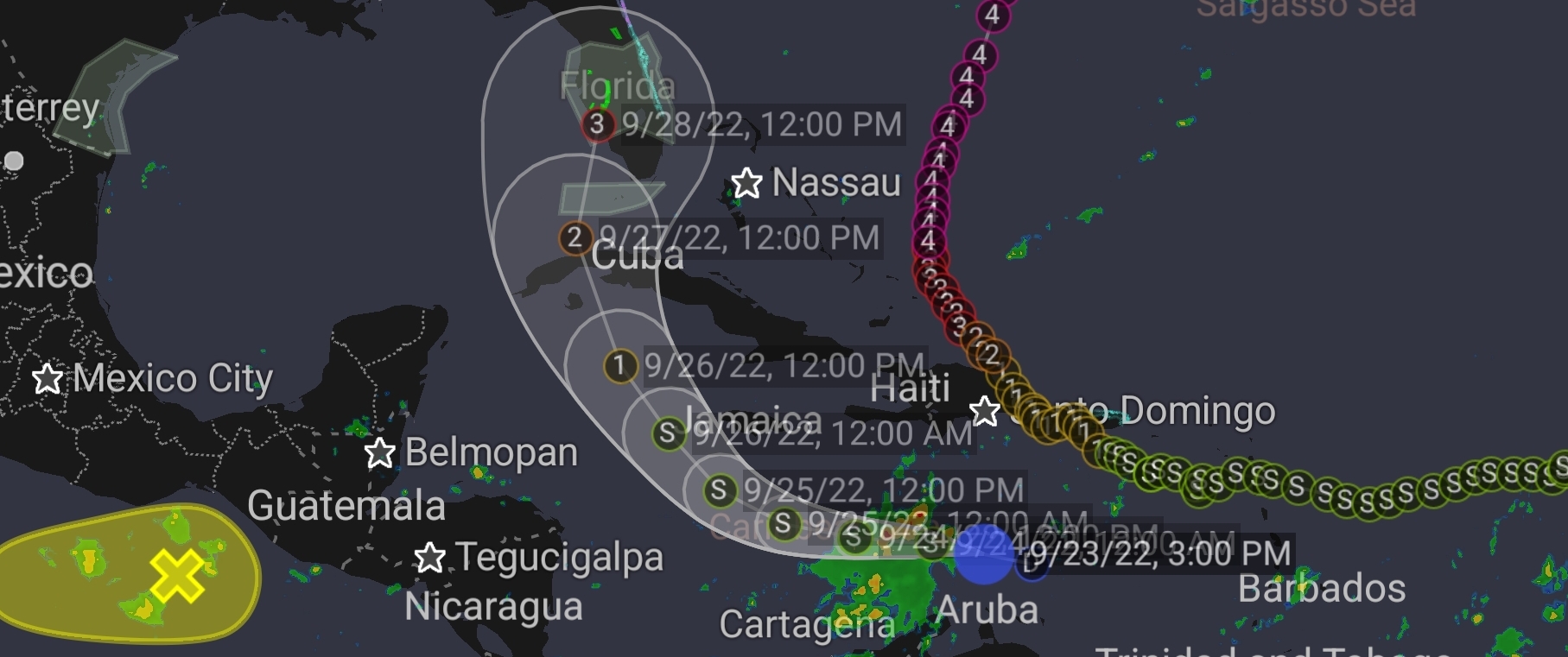 What we know:
The depression is expected to produce heavy rainfall and instances of flash flooding and possible mudslides in areas of higher terrain in Aruba, Bonaire, and Curacao. Heavy rains are also likely to spread into Jamaica, the Cayman Islands, and Cuba in the coming days.
The depression is expected to approach Jamaica as a tropical storm on Sunday and the Cayman islands as a hurricane on Monday. Watches for these locations may be required later today or on Saturday.
What is the likelihood of it gaining strength?
Early next week the system is forecast to move near or over western Cuba as a strengthening hurricane and then approach the Florida peninsula at or near major hurricane strength, with the potential for significant impacts from storm surge, hurricane-force winds, and heavy rainfall. While it is too soon to determine the exact magnitude and location of these impacts, residents in Cuba, the Florida Keys, and the Florida peninsula should ensure they have their hurricane plan in place and closely monitor forecast updates through the weekend.
Tropical Depression Ten

What we know:
Satellite images indicate that the strong tropical wave that NHC has been tracking for several days over western Africa has developed a well-defined surface center over the far eastern Atlantic with organized bands of convection. Dropsonde data from a DC-8 aircraft with the NASA field program Convective Processes EXperiment-Cabo Verde (CPEX-CV) has been quite useful in determining the central pressure and surface circulation definition of the low, with the central pressure of 1003 mb based on the dropsondes. The initial wind speed is set to 30 kt, perhaps conservatively since the eastern side of the circulation has not been sampled by scatterometer or aircraft data.
The system is moving north-northwestward at about 10 kt. A large break in the eastern Atlantic subtropical ridge should cause this system to move generally northward ahead of a mid-level trough before turning westward and accelerating as a shallow system beneath the low-level ridge. The forecast is close to the model consensus, with heavier weight being placed on the global models than the regional hurricane track models.
Note that 2 to 4 inches of rain is possible over the Canary Islands through this weekend due to a combination of the mid-level trough and moisture from this system, which is a bit unusual for that area.
What is the likelihood of it gaining strength?
The depression has about a day over warm water in light to moderate shear before all the models blast the system with strong upper- level southwesterly winds. Most of the guidance shows this system becoming a tropical storm before weakening significantly by late this weekend and dissipating early next week. The official wind speed prediction is near the NOAA corrected-consensus guidance HCCA.
When Disaster Strikes Regency DRT Responds! Call Now For Immediate Assistance – Call (888) 221-5791!
Contact Us
Call or submit our online form to request an estimate or for general questions about our services. We look forward to serving you!