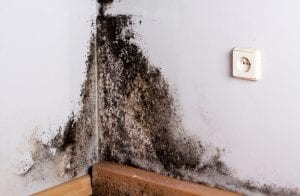 What You Should Know About Mold
Mold is a fast-growing fungus that can spread within 48 hours of water damage. In some cases, like after a flood, the need for restoration is obvious. In other cases, mold can be growing behind your walls without you noticing. Mold spores spread easily and quickly, and mold can grow almost anywhere under the right conditions: on carpet, clothing, cabinets, drywall, in your walls, or even in your ceiling. In addition to being difficult to remove, mold can also produce allergens and, in some rare cases, even toxins. Taking the necessary steps to protect your home against mold, learning to spot the signs of mold, and knowing the negative effects of mold are important to keeping you and your family safe.
PREVENTING MOLD
Dry Wet Areas Immediately
Depending on conditions, mold growth can occur within 48 – 72 hours of water damage. During everyday occurrences, such as spills, wet cloths, etc., make sure to dry everything up right away. Quickly fix roof leaks, old dilapidated pipes, cracks in the walls and foundations, and make sure to regularly check HVAC units for clogs
If you experience a large loss, such as a flood, burst pipe, flooded basement, etc., call a restoration company immediately.
Monitor Humidity in Your Home
The EPA recommends keeping humidity in your home between 30% and 60%. You can measure humidity with a moisture reader purchased from a hardware store.
Keep House Well Ventilated
Even simple, daily activities can lead to mold growth – cooking, taking a shower, or doing the laundry can facilitate mold growth if the room is not properly vented. Make sure to vent moisture-producing appliances, such as dryers and stoves, to the outside of the house, not the attic.
Mold needs moisture to grow and, as the air temperature drops, air is less able to hold moisture. Keeping your A/C on and/or running a dehumidifier during hot/humid days can help prevent mold growth.
Improving airflow in your house can also prevent excess moisture from condensing on your walls, windows, and floors. To increase circulation, open doors between rooms, move furniture away from walls, open closet doors, and open windows.
Identify Problem Areas in Your Home
The best way to do this is to do an audit of your home. Do you notice frequent condensation on your window? Is there a water stain on your ceiling? Are there often wet spots in your basement? Looking for signs of moisture in your home will help you identify the places most susceptible to mold growth.
Once something is wet, fixing it may be as simple as throwing out wet furniture or ripping up wet carpet. Or it may require major mitigation and reconstruction. Either way, it is very important to fix it immediately.
Direct Water Away from Your Home
If the ground around your home isn't sloped away from the foundation, water may collect there and seep into your basement or crawlspace. It can even compromise the integrity of the foundation over time.
Check Gutters
Clogged or broken gutters can lead to roof leaks, which can cause mold growth in your ceiling. Have your roof and gutters inspected and cleaned regularly. Keep an eye out for water stains after heavy rain fall, as they can indicate a leak.
SIDE EFFECTS OF MOLD EXPOSURE
Foggy thoughts and temporary memory loss, loss of focus, headaches
Weakness of muscles and exhaustion
Joint pain, nerve pain, random muscle pains
Tingling of numbness in the body
Sensitivity to light
Coughing or shortness of breath
Slight tremors of the body
Change in appetite, diarrhea, nausea, and abdominal pains
Irregular body temperatures changing at random intervals
Increased urination and higher intake of liquids
MYCOTOXINS
What are mycotoxins?
Mycotoxins are chemicals released by fungi and they are toxic to both humans and pets. They are not required for mold to grow, since most mold will not produce mycotoxins, but they act as a kind of defense mechanism and allow mold to more easily infect a host.
Short term symptoms of mycotoxin exposure include headaches, muscle pain, nerve pain, night sweats, difficulty breathing, fatigue, confusion, vision changes, and disorientation. Long term effects of mycotoxin exposure include poor kidney function, liver necrosis, lung hemorrhage, gastrointestinal ulcers, and seizures.
Mycotoxins can harm any organism that competes with the mold for space and nutrition, which can include other mold. If you have various molds competing, mycotoxin production may increase. Although most molds won't produce mycotoxins, the best way to avoid them is to prevent and get rid of any mold growth.
SIGNS OF MOLD
Watery or Stinging Eyes
Many people have allergies to mold. If you are consistently experiencing itchy/watery eyes, coughing, and/or nasal congestion, there may be mold in your house.
Tingling Skin
If you're allergic to mycotoxins, you can experience tingling, itching, or burning sensations when you come into contact with mold.
Paint Bubbling
Bubbling paint is a sign of moisture build up. It is important to fix the underlying problem before repainting.
Odd Smelling Chimney
Moisture can build up in the porous bricks and mortar in a chimney and mold growth can produce a musty smell. Rusty chimney caps or damaged flashing can let rain and snow seep in.
Bathroom Exhaust Fan isn't Working
Exhaust fans can get clogged and, if it's still steamy five to ten minutes after you get out of the shower, your fan isn't circulating enough air. The bathroom is one of the rooms most susceptible to mold, so it is imperative to fix a faulty bathroom fan immediately.
Even if the water damage to your home may not seem significant, it is important to use a qualified restoration company to bring your home back to pre-loss condition. Trying to fix a major mold problem in your home on your own is not only generally ineffective, it can also be dangerous. Any cleaning a homeowner does is usually only at the surface level, leaving potentially harmful mold, bacteria, and toxins beneath your floors or in your walls. This can lead to bigger and more costly damages down the line.